Providing essential food and provisions for underprivileged families and individuals on a monthly basis.
A platform for seniors and retirees to find company and participate and in meaningful participations.
Online tutorial Program for children from poor families who could not afford to pay for private tuition.
How you're changing lives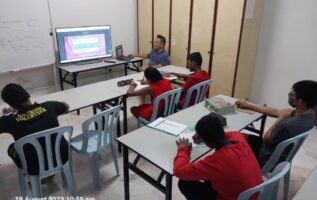 Tuition Project re-launch
GTCC TUITION PROJECT re-launch tuition classes after Covid Pandemic on 5th August 2023
Taking care of two OKU sons and bedridden Mother-in-law. Receiving Food aids from GT Food Bank since 2015.Due to my family situation, I am not employed. Life has been very tough for my family. Although I face many difficulties and challenges, I am very grateful to GTCC Food Bank for helping me every month for the last few years to put food on my table.
I'm glad to be part of this sewing group at GTCC. We usually meet on Friday. Though we are few in number we manage to have fun together. We share our latest sewing exploits and showcase our handiwork and also recipes. From sewing simple pouches we progress into sewing household items such as hand towels, shopping bags and others. I've never regretted joining this sewing circle.
GTCC LG is a very special place for us 15 ladies. We've grown to understand and love each other over the years; GTCC Life Group is like our second home. It's a safe place we meet on Wednesdays, to share new ideas, eat, practise line dancing and even cook and sew. Most of us are seniors, we have so much to share: not just experiences, birthdays and grandchildren but also our common concerns of growing old. My life is so much richer because of these lovely sisters, my extended family.
I started taking tuition classes at GTCC when I was in my Primary 6 in 2016. I have learned how to study smart, how to communicate with others and be more patient even in school. The teachers in GTCC were very good and kind. When COVID-19 lockdown started in 2020, I faced lots of problems in my study. Online study was not easy for me. With the help of GTCC tuition teachers, I did my best to study hard. I managed to get 6 credits for my SPM results. Currently I got a scholarship to study Dip in Graphic Design in City University. Many thanks to GTCC for giving me the opportunity to do well in my study.
Tashavatani A/P Thanabalan
Support Staff (Operations)
Chartered Financial Consultant